TODAY'S ONLINE ONLY SPECIALS!

All Dips, Soups, Chili and Salsas are on Sale!
Plus there is 20% DISCOUNT OFF ALL ORDERS OVER $70

Plus orders over $50 will receive a free $6 item!(Dip, Salsa or Snack Mix)
Also
$2.99 SHIPPING FOR YOUR ENTIRE ORDER, YES EVEN LARGE ORDERS!
AND
(DISCOUNT WILL SHOW IN CART, does not include add on items or shipping)!

(If you would like to choose your free item $6.00 value you can enter requests it in the comment section OR we will choose something for you that we think you would enjoy)
BUT YOU CANNOT SUBSTITUTE A SOUP OR CHILI FOR A DIP

PRODUCTS ARE ALSO NOW AVAILABLE ON AMAZON.COM WITH FREE SHIPPING FOR PRIME MEMBERS!
Click on any like product and it will show you all of the flavors available

Shipping can take up to one week as we travel for arts and craft shows. We will always send it out ASAP!

ALSO...
BE SURE TO JOIN OUR EMAIL LIST FOR OCCASIONAL DISCOUNTS

THANK YOU FOR YOUR BUSINESS!
DISTRIBUTOR INQUIRIES WELCOME!
Featured Products

Garlic Dip
Recipe of the Month:
Garlic Steak Bites
Ingredients:
1 1/2 lbs. cut up steak (sirloin, NY or filet)
1 T. Olive Oil
3 T. Butter
1 package Coyote Country Seasonings Garlic Dip Mix
Salt and Pepper to taste

Instructions:
1. Mix the butter and Garlic Dip Mix together and set to the side.
2. Heat the oil in a skillet over medium high heat. Season with salt and pepper if desired.
3. Place cut up steak in the pan in a single layer. You will need to do batches. Cook for 3-4 minutes until golden brown on all sides.
4. Add the garlic butter mixture to pan and cook for an additional 1-2 minutes, stirring to coat the meat with the butter mixture.
Serve and Enjoy

.85 OZ (25g)

Dill Dip
Also great for fish!!!! or here's another fabulous recipe:

Fried Dill Dip;
1 package Coyote Country Seasoning Dill Dip 8 oz. softened brick of cream cheese
8 oz. sour cream
1 cup chopped dill pickles, the crunchier the better
1/2 cup Panko crumbs
2 T. Butter

Mix the first four ingredients together and refrigerate at least one hour (overnight is better). When ready to serve, melt butter in a fry pan on medium heat then stir in the Panko crumbs and toast until browned. Pour over dip and serve with chips, crackers or vegetables.

.85 OZ (25g)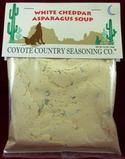 White Cheddar Asparagus Soup
Also makes a great sauce over chicken.
Here is the recipe:
4 boneless skinless chicken breasts
1 packaged Coyote Country Seasonings White Cheddar Asparagus Soup
1 pound fresh asparagus spears
1 T. olive oil

Bring 3 cups of water up to a boil and whisk in the soup mix, let simmer for about 10 minutes.
Heat olive oil in a pan and brown chicken breasts for 5 minutes each side. In a 10 x 13 baking dish, place the chicken in the pan and place the asparagus around the chicken. Pour the soup over the entire dish and bake in oven on 350 degrees for 20 minutes a little longer if you have really thick chicken breasts.
Enjoy! 

5.2 oz. (153g)
LOOK FOR UPDATED SHOW INFORMATION (We will update it as soon as shows are booked)


****************************************************************************

Please enjoy this new website and mark the box at checkout to receive information on future promotions.
This is a private list and we will only send you occasional emails.
Also like us on Facebook!
Comments welcome at checkout!

buy chantix